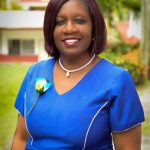 It is a great pleasure to welcome you to the Patricia D. James Secondary School Webpage.
I feel privileged to be the Principal of such an exciting school, which offers so many great opportunities for our students. It is our goal to assist each and every student to ensure that they succeed. We offer our students the best possible opportunities to become confident, thoughtful young people who are prepared for any future challenges, in an exciting and increasingly Global Community.
At the Patricia D. James Secondary School, we are very proud of the caring, inclusive environment that we provide for our students. We also set high standards and expectations for our students to achieve. We expect our students to behave at their very best at all times. From the moment a new student enters our school community we want them to feel a sense of contentment and belonging as this is crucial to their future success. Our devoted staff enables us to deliver our programmes in an environment that is warm, friendly and in agreement with all CSEC's requirements as stated by the Department of Education
Our Mission is to provide a well– rounded education to our students, that will lead to their self development and prepare them for service. We aim for all our students to achieve this by:
Improving their basic skills in Literacy and numeracy in order for them to work above functional levels.
Improving levels of progress and achievement for students arriving at the school with weak levels of literacy and numeracy
Increasing the opportunities available to students in co-curricular activities
Our Theatre Arts, Music, Food and Nutrition and Sports Departments are vibrant and make us proud on a daily level. In October every year the school hosts a very popular Creole Day Pageant alongside a Creole Iron Chef Competition. Our Inter- House Sports Meets are very competitive where students participate in various sports including Basketball, Cricket, Netball, Cycle Races and Road Relays to name a few. Our Theatre Arts Department put together a production every year for graduation that is a "Must See."
Visitors are always welcome to make an appointment to visit us and see what we have to offer.
We look forward to welcoming all our future students and parents.